Description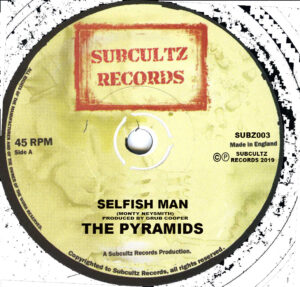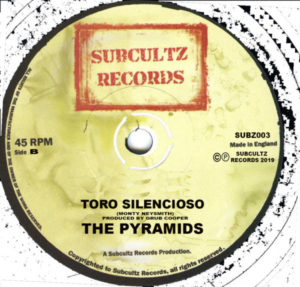 Now available only at Subcultz. Only 200 copies
Legends of Ska The Pyramids first UK release in decades
A. Selfish Man 2019
B. Toro Silencioso 2019
Symarip Pyramid are back, with original legends of Jamaican Ska. Monty Neysmith. Frank Pitter and Mick Thomas. Signed to Subcultz management the band set out for a few shows in 2019 , UK,  Spain, Belgium and Germany to sold out events after appearing at The Great Skinhead Reunion Brighton in 2018, which was meant to be a one off reunion for the band
Symarip (also known at various stages of their career as The Bees, The Pyramids, Seven Letters and Zubaba) were a British ska and reggae band, originating in the late 1960s, when Frank Pitter and Michael Thomas founded the band as The Bees. The band's name was originally spelled Simaryp, which is an approximate reversal of the word pyramids.[1] Consisting of members of West Indian  , Simaryp is widely marked as one of the first skinhead reggae bands, being one of the first to target skinheads as an audience. Their hits included "Skinhead Girl", "Skinhead Jamboree" and "Skinhead Moonstomp", the latter based on the Derrick Morgan song, "Moon Hop".[2]
Landing as young immigrants into London from Jamaica in 1962 joining into the growing South London Reggae culture, spearheading the blending of black migrant and white London youth. Mods being the subculture of the time who followed RnB American Modern Jazz before the Skinheads replaced them towards the late 60's, the band formed as the Bees to back leading singers Prince Buster and Laural Aitkin
They moved to Germany in 1971, performing reggae and Afro-rock under the name Zubaba. In 1980, the single "Skinhead Moonstomp" was re-issued in the wake of the 2 Tone craze, hitting No. 54 on the UK Singles Chart.[3][4] The band officially split in 1985 after releasing the album Drunk & Disorderly as The Pyramids. The album was released by Ariola Records and was produced by Stevie B.
Pitter and Ellis moved back to England, where Ellis continued performing as a solo artist, sometimes using the stage name 'Mr. Symarip'. Mike Thomas met a Finnish woman while living in Switzerland and relocated to Finland doing the groundwork for the Finnish reggae culture through his band 'Mike T. Saganor'. Monty Neysmith moved to the United States, where he toured as a solo artist.
In 2004, Trojan Records released a best of album including a new single by Neysmith and Ellis, "Back From the Moon". In 2005, Neysmith and Ellis performed together at Club Ska in England, and a recording of the concert was released on Moon Ska Records as Symarip – Live at Club Ska. In April 2008, they headlined the Ska Splash Festival in Lincolnshire as Symarip, and later performed at the Endorse-It and Fordham Festivals. Pitter and Thomas now perform in a different band as Symarip Pyramid. Their Back From The Moon Tour 2008–2009 was with The Pioneers. In 2009, to celebrate the rebirth of the band and the reunion of the two original members, Trojan Records released a compilation album, Ultimate Collection. Pitter holds all copyright and trademark rights for the name 'Symarip Pyramid'.
To book the band and any further information subcultz@gmail.com