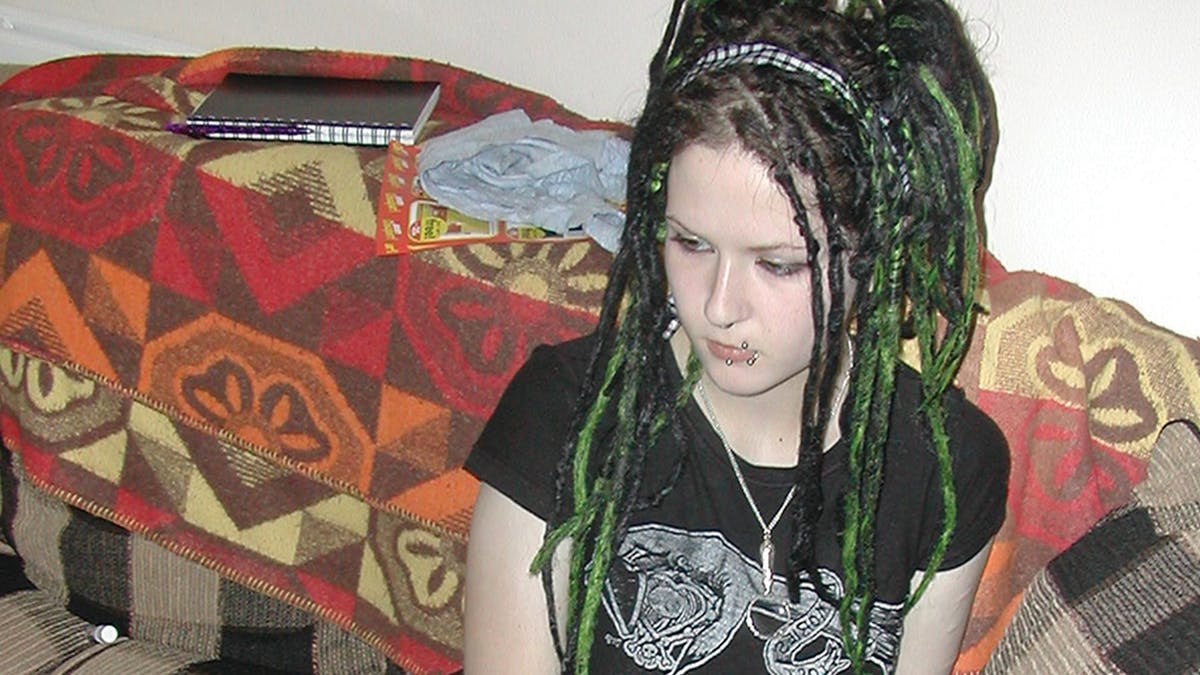 A JUDGE attacked the "feral thuggery" blighting Britain yesterday as he jailed two yobs for life for the murder of a student.
SOPHIE: Kicked to death in a park after being picked on by a gang because of her Goth clothing
Sophie Lancaster, 20, was kicked to death by two drunken 15-year-olds as she tried to stop a "merciless" gang battering her boyfriend unconscious in a park.
Three other youths were jailed for assaulting him.
Judge Anthony Russell QC said tough sentences were necessary to curb increasing attacks by youths roaming the streets.
Fuelled by cheap alcohol, a gang of yobs set upon Sophie and 21-year-old Robert Maltby just because they wore distinctive Goth clothing.
Judge Russell said: "This was feral thuggery of a kind that is quite unacceptable. It raises serious questions about the state of society which exists in this country at the beginning of a new millennium which was heralded with such optimism."
He added: "At least wild animals when they hunt as a pack have a legitimate reason for doing so – to obtain food. You had none and your behaviour on this night degrades humanity itself.
"Regrettably, cases where gangs of youths attack others viciously, sometimes using weapons, sometimes using their own brute force through their feet, are becoming more prevalent.
"Where such crimes are proved, severe punishment will follow.
"I want the message to go out loud and clear that cowardly thugs who resort to kicking others senseless are sentencing themselves to lengthy custodial terms."
Preston Crown Court heard how Sophie and Robert were attacked last August as they walked home through Stubbylee Park in Bacup, Lancs.
Brendan Harris, 15, felled Robert with a punch before the others set upon him "like a pack of wild animals".
Harris told how – as Sophie cradled Robert on the ground and urged them to stop – Ryan Herbert, also 15 at the time, kicked Sophie's head "as though he was volleying a football in full flight".
The pair continued to stamp on her head before leaving the couple for dead.
Their injuries were so severe that paramedics could not tell them apart.
After the attack the gang bumped into a witness, who said they were behaving in a "giddy way, hyperactive and bouncing around doing silly things".
He added: "It was as though they were boasting about what they had done."
Herbert told him: "You wanna see them, they are a right mess."
Sophie, a gap-year English degree student who enjoyed writing poetry, slipped into a coma and died two weeks later.
Robert, a Manchester University art student, survived horrific head injuries. But he has been left psychologically scarred and is afraid to leave his house.
In a statement he told the court: "I have regressed to a child-like state and I am finding the world a terrifying place."
Sophie's mother Sylvia, 52, told the court: "Their actions are so heinous I can't bring myself to think about it.
"My daughter's last moments on Earth must have been a living hell. Not only did she witness Robert being kicked and stamped upon, but she died not knowing whether Robert lived or died after the vicious attack on him."
Harris, who was found guilty of murder, was jailed for life and must serve 18 years before he can be considered for parole.
Herbert, now 16, who admitted murder, was given life with a minimum of 16 years, three months. Neither showed any emotion as they were led away.
Joseph Hulme, 17, his brother Danny Hulme, 16, and Daniel Mallet, 17, were handed indeterminate sentences after admitting causing grievous bodily harm with intent by attacking Robert.
The Hulmes must serve a minimum five years and ten months each. Mallet must serve at least four years and four months.
Outside court, Mrs Lancaster, who works with problem children, said: "No sentence could ever be enough.
"I feel I have a life sentence. They will be out before the end of their 30s."