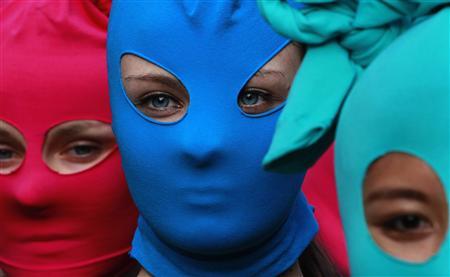 Pussy Riot supporters protest at Russian cathedral
By Steve Gutterman
MOSCOW | Wed Aug 15, 2012 6:23pm BST
(Reuters) – Security guards scuffled on Wednesday with masked protesters demonstrating outside Moscow's main cathedral in support of members of the Pussy Riot punk band who are on trial for an irreverent protest at the same church.
Witnesses said 18 demonstrators in colourful balaclavas like those worn by the band mounted the steps of Christ the Saviour Cathedral and held up placards reading: "Blessed are the merciful".
Guards moved swiftly to disperse the demonstrators and treated some of them roughly, Internet TV channel Dozhd reported. Ekho Moskvy radio said five people were detained.
A Moscow court is to issue its verdict on Friday in the trial of three women who sang a "punk prayer" on the altar of Christ the Saviour in February, calling on the Virgin Mary to rid Russia of President Vladimir Putin, then prime minister.
Prosecutors want the judge to convict Nadezhda Tolokonnikova, 22, Maria Alyokhina, 24, and Yekaterina Samutsevich, 30, of hooliganism motivated by religious hatred and sentence each to three years in prison.
Amnesty International, Human Rights Watch and other rights groups called for protests around the world to support the jailed musicians on the day of the verdict.
Amnesty International in Washington said a senior counsellor at the Russian embassy refused to discuss "more than 70,000 petitions urging Russian authorities to immediately and unconditionally release the women."
"This representative of President Putin and his government not only rejected Amnesty International's pleas to take our concerns to Moscow, he unceremoniously dumped the petitions on the sidewalk. If this and other actions taken by Russian authorities are any indication, Putin's vision for the country is a complete breakdown of a free and just society," it said.
The accused say they were protesting against close ties between the state and the Russian Orthodox Church, whose leader supported Putin during his successful campaign in a presidential election in March.
They have been held in jail since shortly after their performance, which offended many people in mostly Orthodox Christian Russia. Kremlin critics see their trial as part of a crackdown on dissent as Putin starts a new six-year term.
(Editing by Timothy Heritage and Robin Pomeroy)
An international frenzy is building over the trial verdict that some are saying could decide the future of Russia. Artists in London and Berlin are organising protests. The European Union has accused Russia of intimidating judges and witnesses. Even stars like Yoko Ono and Madonna are getting involved.
Here's what happened: Nadia, Masha, and Katya were arrested, denied bail, and imprisoned for months because they sang a protest song criticising Russian president Vladimir Putin. In just days, a judge will decide whether to sentence them to three years in prison on charges of "hooliganism."
Canadian singer Peaches is known for her controversial lyrics — and when she saw the way these women were being treated for speaking out, Peaches started a petition with other musicians on Change.org asking the prosecution to drop the charges and set the women free.
Click here to sign Peaches' petition.
Nadia, Masha, and Katya joined the political punk band, known as "Pussy Riot," to help raise awareness over government corruption. Together with a handful of other committed young women, they dress up in colourful clothing and sing about what they think is wrong with their country — like earlier this year when they performed outside a prison for political dissidents.
Their arrest and trial have drawn international attention. Musicians across the globe are rallying to the cause, with Madonna interrupting her concert in Moscow this week to voice her support, and Russian artist Pyotr Pavlensky sewing his mouth shut in protest.
President Putin is starting to show sensitivity to the pressure, and the women's defense lawyer has told the press that he thinks the judge may be moved by outside influence. To ramp up the pressure, supporters of the Pussy Riot defendants are collecting petition signatures from thousands of people around the world calling on Russian authorities to release the women.
Click here to sign Peaches' petition and demand that the Russian government release Nadia, Masha and Katya — members of the rock band Pussy Riot.
Thanks for being part of this,
Podcast: One Year After Pussy Riot, Culture War Vs. Countercultural Insurgency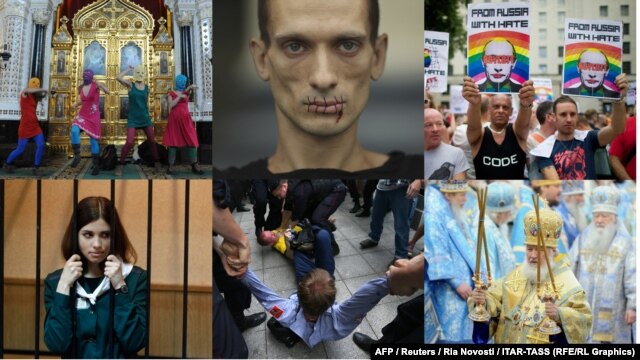 Pussy Riot's brief act of defiance last year helped lift the lid on some deep divisions within Russian society. August 16, 2013
Ayear ago, much of the world's eyes were on a Moscow courtroom where three young women were on trial for a two-minute act of defiance in the Russian capital's main Orthodox cathedral.The Pussy Riot case exposed deep divisions in Russian society — divisions the Kremlin was eager to exploit for its own purposes.In the latest "Power Vertical Podcast," we discuss the implications of the cultural war and countercultural insurgency that has raged since the verdict.
Joining me is co-host Kirill Kobrin of RFE/RL's Russian Service, a contributor to the online magazine Polit.ru, and Sean Guillory of the University of Pittsburgh's Center for Russian and Eastern European Studies, author of Sean's Russia Blog.
Enjoy…
Podcast: One Year After Pussy Riot, Culture War Vs. Countercultural Insurgency