The Great Skinhead Reunion Brighton Lineup June 10-11-12th 2022
The Great Skinhead Reunion is a 4 day Festival. Including Pre Party beach BBQ on Brighton Beach England Celebrating British Subculture
Line up for 2022. Once again we have a fantastic line up of acts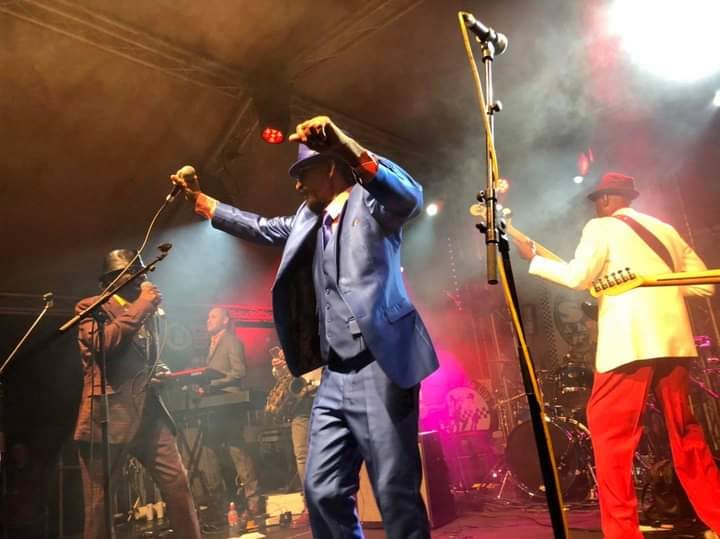 Pyramids Symarip (also known at various stages of their career as The Bees, The Pyramids, Symarip, Seven Letters and Zubaba) were a British ska and reggae band, originating in the late 1960s, when Frank Pitter and Michael Thomas founded the band as The Bees. The band's name was originally spelled Simaryp, which is an approximate reversal of the word pyramids.[1] Consisting of members of West Indian descent, Simaryp is widely marked as one of the first skinhead reggae bands, being one of the first to target skinheads as an audience. Their hits included "Skinhead Girl", "Skinhead Jamboree" and "Skinhead Moonstomp", the latter based on the Derrick Morgan song, "Moon Hop".
They moved to Germany in 1971, performing reggae and Afro-rock under the name Zubaba. In 1980, the single "Skinhead Moonstomp" was re-issued in the wake of the 2 Tone craze, hitting No. 54 on the UK Singles Chart.[3][4] The band officially split in 1985 after releasing the album Drunk & Disorderly as The Pyramids. Reforming as The Pyramids Symarip, after Monty did a solo show at The great Skinhead Reunion Brighton in 2019. Founder members Monty Neysmith, Mik Thomas and Frank Pitter got back together writing some new tunes and playing the original classics. In Skinhead history you cant really get more iconic than this band. While backing Prince Buster and Laurel Aitkin in the mid 1060's a new subculture was forming from the Mods, shorter hair, big boots, termed Skinheads were now moving on from the RnB and Motown favoured, to a new underground sound coming into UK from Jamaican known as Ska. The band at that time known as the Bees and then Pyramids decided to make a concept album for this following turning Pyramids backwards came up with the name Symarip and Skinhead Moonstomp was released by Trojan records in 1970https://www.youtube.com/embed/seoG4-B7J9Y?feature=oembedPyramids Symarip perform Skinhead Girl at Madness House of Fun Weekender
Splodgenessabounds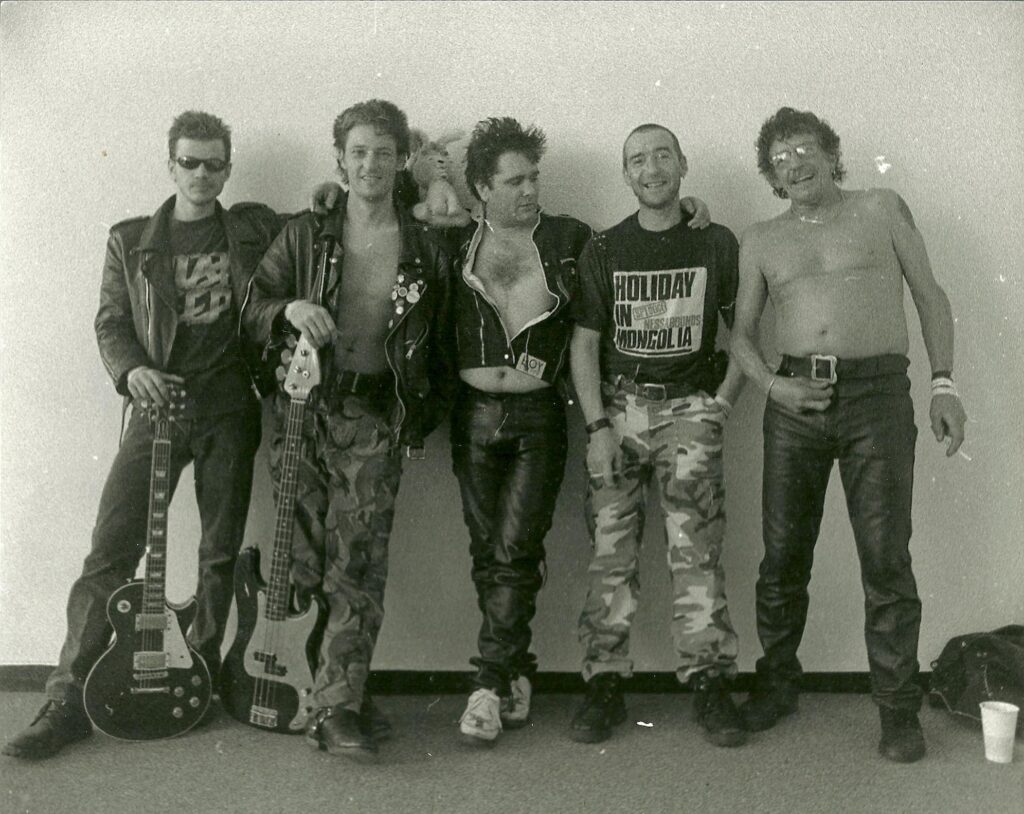 The band was formed over a cab office called Baron Cars in Queens Road, Peckham.
The band were originally fronted by Max Splodge and his girlfriend of the time, who was known as Baby Greensleeves.[3] The band won a recording contract with Deram Records after finishing runner-up in the 1979 Battle of the Bands contest, even though Deram was planning to cease all activities in the music markets outside of classical music. The band's first release for Deram in 1980 was "Two Pints of Lager and a Packet of Crisps Please".[3] The song was released as a triple A side vinyl single, along with "Simon Templer" (a pastiche of the theme tune of the TV series, Return of the Saint featuring the character Simon Templar) and "Michael Booth's Talking Bum".
"Two Pints of Lager and a Packet of Crisps Please" was the only song from that release that picked up any airplay, first from John Peel on his BBC Radio 1 show, and later on daytime radio as a novelty song. The song peaked at No. 7 in the UK Singles Chart in June 1980,[3] however the band members were unable to capitalise on their success by appearing on Top of the Pops, because the show was off the air due to strike action at BBC Television.
The follow-up to "Two Pints of Lager and a Packet of Crisps Please" was a cover version of "Two Little Boys"[3] (a live version that appeared in the soundtrack to the 1981 film, Urgh! A Music War). It was a quadruple A-side, with "Horse", "The Butterfly Song" and "Sox". The initial copies of the single came with a cardboard boomerang, 'guaranteed not to come back'. The band then performed on Top of the Pops, but the single only reached No. 26 in September 1980. Their eponymous debut album (released in January 1981 when the band was on hiatus) failed to chart.
In the band's early days, they were noted for playing pranks. These included leaving Splodge stranded on top of a set of speakers for an entire set; supporting themselves when the support band failed to show by playing the wrong instruments badly at deafening volume levels; and a stunt where Splodge was rumoured to be held in Maidstone Prison and came on stage handcuffed to a prison officer. Splodgenessabounds' stage show sometimes went to carnivalesque extremes. Police were frequenting their concerts, due to unsubstantiated reports of public nudity and "farting on demand" during renditions of "Michael Booth's Talking Bum".[4]
The group often made humorously grandiose press release claims, such as that their debut album would be a triple, including a side of "old material transcribed from their own cassettes, coupled with their 'Pathetic Movements Manifesto', and including a free Christmas tree with every copy."[5]
Splodge got back into the studio – having lost the rest of his band in 1980 – with help from the Heavy Metal Kids, whose lead singer and guitarist Gary Holton was a friend of Splodge and sometime member of Splodgenessabounds. Their single "Cowpunk Medlum" (a medley of the theme song of the Western film High Noon, a section of "Ghost Riders in the Sky" and the TV series Bonanza) reached No. 69 in June 1981, but after this, Deram terminated the band's recording contract.[3] Nevertheless, the new Splodgenessabounds (temporarily shortened to Splodge for legal reasons) released a follow-up single, "Mouth and Trousers", along with the album In Search of the Seven Golden Gussets on the independent Razor Records.[3] Despite the single getting good airplay and favourable reviews (being a ska song rather than their usual punk style), without the backing of Deram Records, it became the first Splodgenessabounds single to fail to chart.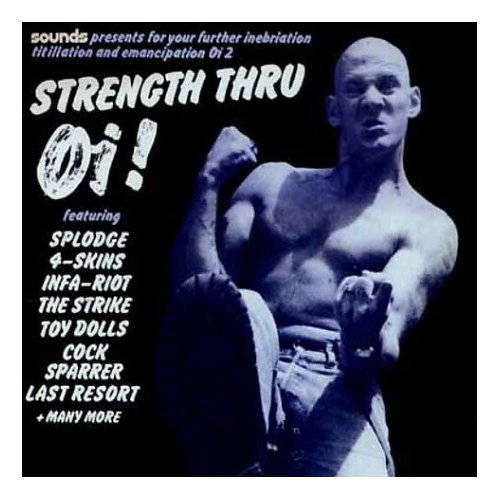 A new album, A Nightmare on Rude Street was recorded in 1991,[3] but sales and reviews were poor. Splodge continued the band with various line-ups also pursuing his career as an actor and bingo caller, as well as playing with Angelic Upstarts.[3]
In 1999, after going for a DNA blood test, Splodge discovered he was a direct descendant of Genghis Khan. Splodge penned five songs: "Genghis Khan", "Lulluby of Mongolia", "These Are the Things That Make the Mongols So Great", "Too Mongolia" and "Mongols on the Streets of London" (written with Mat Sargent of Sham 69).
Two subsequent albums I Don't Know (2000) and The Artful Splodger (2001) recorded and produced by Dave Goodman, were released by Captain Oi! Records. The albums sold well and the band did two UK and European tours, and also appeared in Canada and the United States.
A live show in Brighton was released on DVD in 2005 and featured Motörhead guitarist Würzel who often guested with Splodge, and also a joint single with John Otway, "No Offence – None Taken", (available for download only).
In 2006, the band appeared on Harry Hill's TV Burp, after being featured on Rock School with Gene Simmons. Splodgenessabounds performed at the end of the show, accompanied by Hill dressed as "The Demon", Gene Simmons.
In 2008, Splodge recorded a new song; "You've Been Splodged", this was released on an Oi compilation album.
In 2012, Splodge recorded a Christmas song that appeared on a punk compilation album called Cashing in on Christmas, which was released on Black Hole Records.
Splodge can still be found touring with Bad Manners and, in 2013, it was announced that Splodgenessabounds would play the Rebellion Festival for the 19th time since the Festival started in 1996 as Holidays in the Sun (HITS). Splodgenessabounds are one of only two bands (along with 999) to have played the festival every year. Max also hosts the bingo at the festival which opens the acoustic stage each day.https://www.youtube.com/embed/BLUE2jhgiXo?feature=oembed
Partial discography
Singles
"Simon Templer" / "Michael Booth's Talking Bum" / "Two Pints of Lager and a Packet of Crisps Please" (Deram) – 1980 – UK Number 7
"Two Little Boys" / "Horse" / "Sox" / "Butterfly" (Deram) – 1980 – UK Number 26
"Cowpunk Medlum" / "Brown Paper" / "Have You Got a Light Boy?" / "Morning Milky" – (Early copies came with a Flexi disc with "Yarmouth 5-0 (a parody of Hawaii 5-0) and Brown Paper (dub)) – (Deram) – 1981 – UK Number 69[6]
Studio albumsSplodgenessabounds (Deram) – 1981
In Search of the Seven Golden Gussets (Razor Records) – 1982 (as Splodge)
Nightmare on Rude Street[7] (Receiver) – 1991
I Don't Know – 2000
The Artful Splodger – 2001[8]
DVD
Two Pints of Lager and a Packet of Crisps Please (Secret Records) – 2005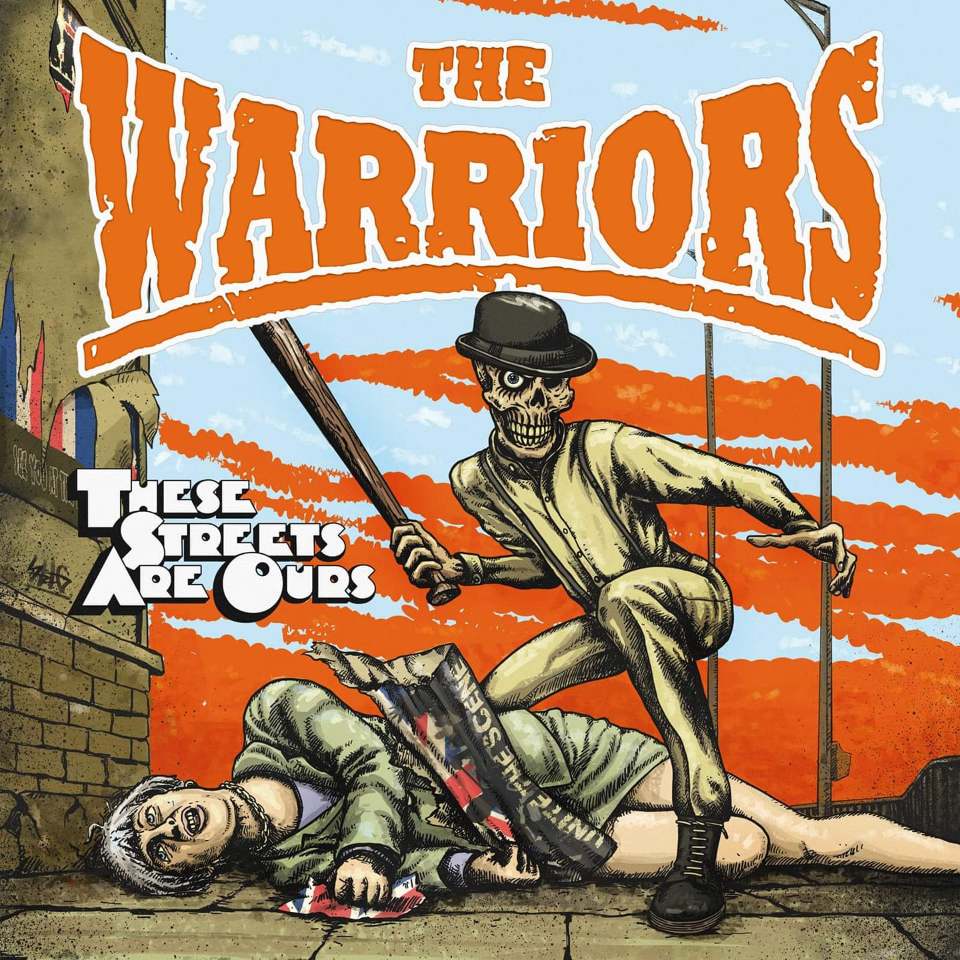 The Warriors South London
The band formed in late 1981 and recorded two tracks on compilation albums, did a couple of gigs and then Roi joined the 4-Skins, Arthur joined The Balham Alligators and that was that until a Last Resort reunion gig. An album was recorded but Roi owned the name, so we went back to The Warriors. The rest as they say is history. Out of the ashes of The Last Resort
The Warriors have been a front runner for the oi scene and with each album have stepped away from the Last Resort banner and have made a name for them self in the punk and oi scene
The Warriors are and always will be a non political band that stands for pride not prejudice
A FIVE PIECE KICK ARSE BAND Genres Oi! Punk/Streetpunk. UK based in Kent originally from Herne Bay.
Oxblood New York City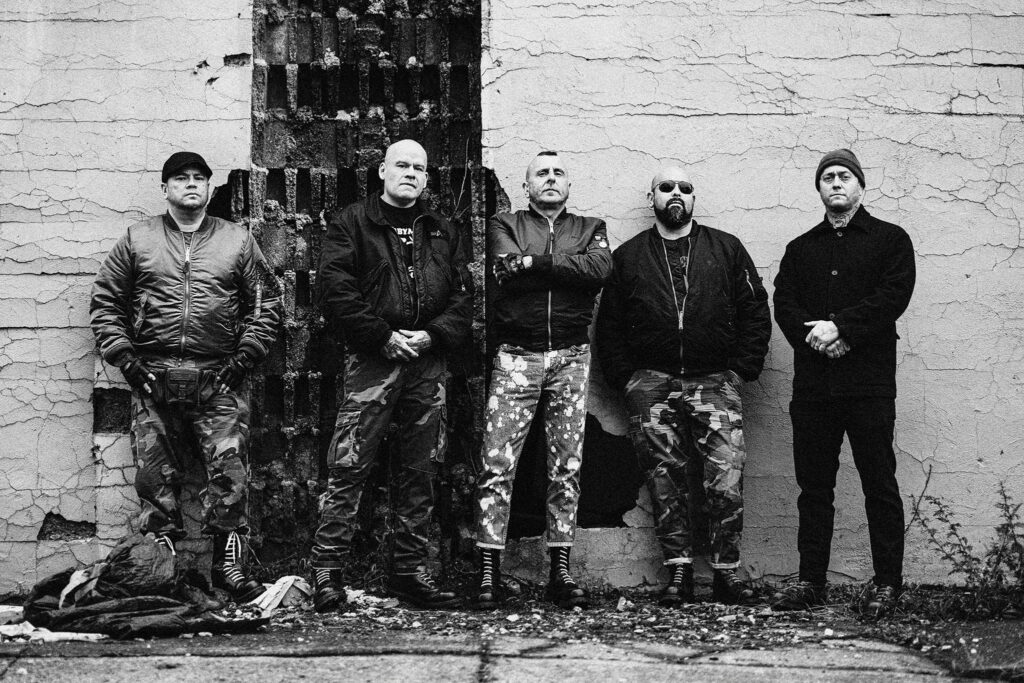 Oxblood, The band started out in 1991.There was not much of an oi scene in New York city at the time. Some bands came and went until four die hards members, tired of no shows, no bands, but so much oi in their blood to start a band for themselves, and embark onto a journey that still continues today. A band that would go down and still is in the history of oi as the most infamous, angry, violent band around. In the beginning, the line-up consisted of Harry drums, Paul bass, Mac guitar, frank vocals. Harry left the band to pursue his tattooing career in 1994. Frank left right after that to pursue his Psychobilly band(TR6).So Mac jumped on vocals.Kev joined the band on drums in Febuary of '96.After Frank's departure of the band in '94,he returned to his duties as the original vocalist in March of '08. The current line up consist of Frank on vocals, Paul on bass, Kevin on guitar/drums and Alex (drums/guitar. Later frank moved to Texas. Despite this the rest of the band is still NYC. Aside from their big list of gigs that include European tours and all across the U..S. They still play underground shows . They also play a lot in Texas with Bobby on drums and Richard on guitars. In spite of their reputation, rumours and setbacks that they have encountered throughout the years, Oxblood is still alive and kicking. The gods of of oi are looking upon them and guiding them through thick & thin to the path of victory. "Hated & proud themes on our lyrics are a reflection of our everyday skinhead life in New York City. We sing about things we go through, like violence, being locked up, the New York Police Department, working by chance not by choice etc. Unlike other bands we don't just sing about it, we actually live it. "We do many covers in our sets by bands like Criminal Class – soldier, Combat 84 – violence, Sham 69, 4skins, & other early oi French bands. Rose Tattoo-remedy etcCurrent lineup:vocals – Frankbass – Paulguitar – Richarddrums – Bobby Previous lineup:vocals – Frank/Macbass – Paulguitar – Mac, Alex, Dave, Joseph drums – Harry
A band bogged by modern day internet inquisition for being a step back into old school Oi! which was a voice of the disenfranchised often violent youth culture of the 80's. Although coming later, its bands like this that kept the fire burning as Skinhead subculture left the shores of Britain. From New York and have not played anywhere in Europe for over ten years and never UK
Judge Dread and his Seamen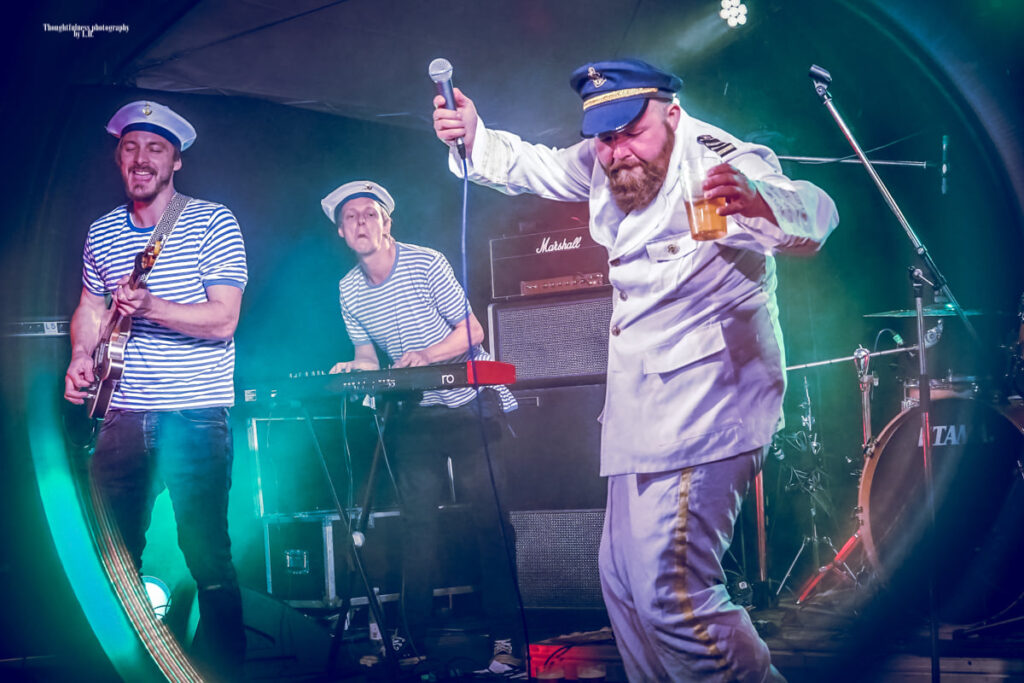 Street punk band, Geoffrey Oi!Cott, formed in 2006, in Yorkshire UK.
"The myth goes – we were formed out of the Ashes of our local Boys Brigade brass band and were inspired by our love of Yorkshire, cricket, darts, women and beer OR Yorkshire, Yorkshire cricket, Yorkshire darts, Yorkshire women and Yorkshire beer – depending on who you ask."
Their first album, The Good, The Bad & The Googly was released in 2008 to a fanfare of great reviews, including a review in porn mag Men Only.
The band toured UK and Ireland with Canadian hardcore outfit, Career Suicide that summer, before making their Rebellion debut in August 2009, their 1st of 11 consecutive appearances at Blackpool. They've also played the last two Rebellion Amsterdam festivals, plus a few appearances in Holland and Germany over the years. And plenty in the UK.
A second album, maybe their best, followed in August 2011. No One Hits like… LP was the last to feature the original line up, but included the walk-on music for darts player Garry Thompson, 2 times Lakeside quarter finalist, and the song got lots of BBC airtime, plus articles in National Newspapers.
August 2015 saw the release of their most recent LP, Sticky Wickets, and a 7" picture disk followed in August 2016, containing fans favourite song Fanny Batter On A Sticky Wicket.
Like most other bands the Covid pandemic put a halt to activity, but the lads were 2/3 of the way through recording their 4th innings, so at the end of 2021 sneaked into the studio to record 4 more songs and tidy up their new songs. Their 4th LP, "Carry On Oi!Cott", is due for release in July 2022 on vinyl (CDs might be earlier, fingers crossed), and something resembling a tour is on the cards: Blackpool, Bramley, Bedford, Birkenhead, The Brudenell and Blackpool all confirmed. Maybe they'll play other places not beginning with a 'B'.
Discography:
Albums The Good, The Bad & The Googly 2008
No One Hits like… 2011
Sticky Wickets 2015
Carry On Oi!Cott 2022
Samira The soul of Ukraine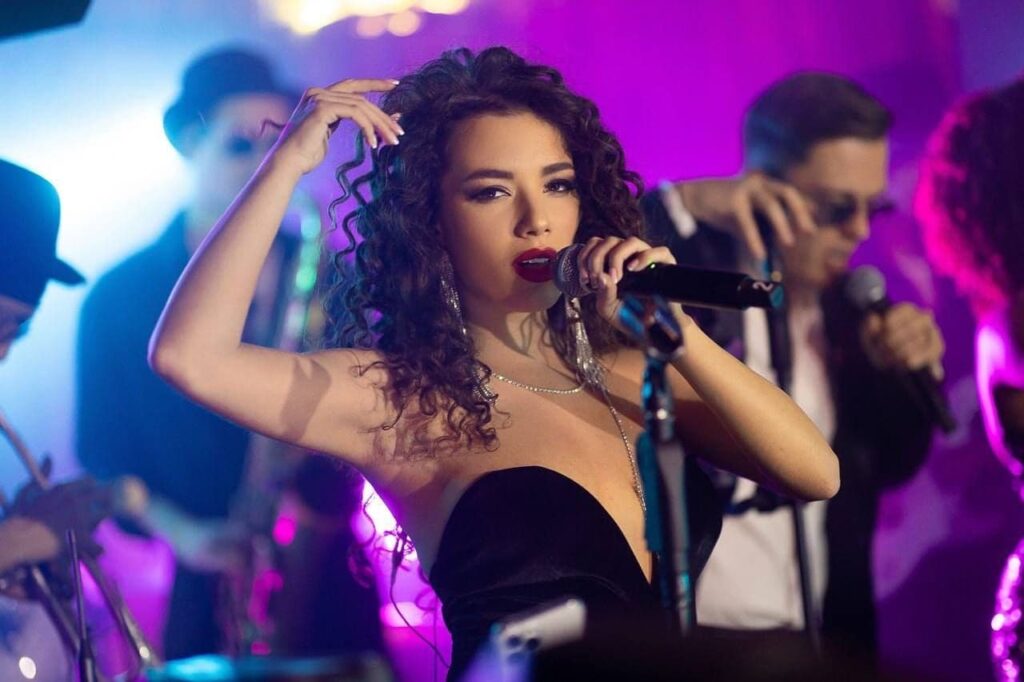 Samira is a singer from Ukraine with an amazing voice of soul. Previously fronting a band called the Kyviv all girl Ska Orchestra, but this concept band broke up two years ago, and with the outbreak of war Samira had to fight her way out of the country and into Romania as a refugee. We at Subcultz have been helping and supporting her and are now pleased to announce that she will be performing at the reunion this June, perfoming Ska and Soul tunes, a blend of her own work with some established dancehall bangers, in her unique style.
The Skinflicks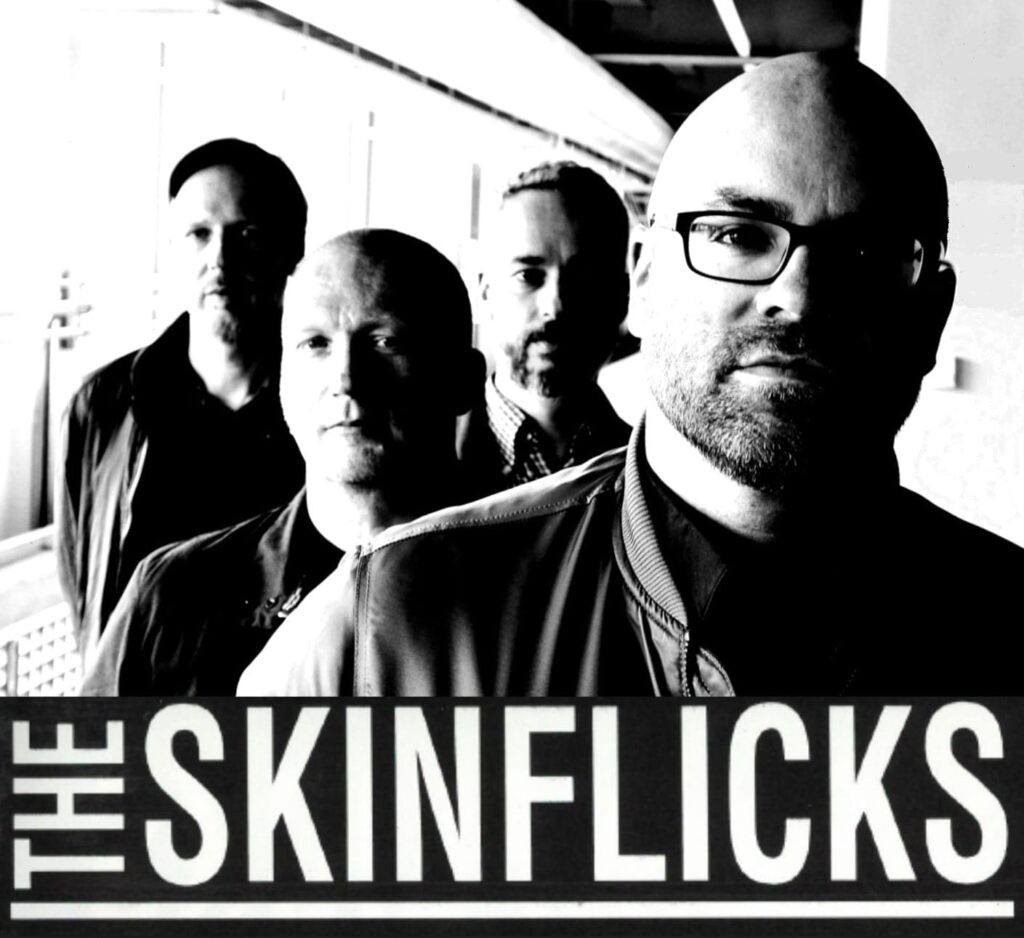 THE SKINFLICKS were founded after a hard drinking session in November 1997 with the mission statement to bring the sound of old English street punk and Oi! music to the streets of Luxembourg, Europe. The band soon found the sound they had been looking for and set out to conquer the world. The fun lasted until September 2002, when they decided to call it quits for a while.
Now, THE SKINFLICKS are back and bring their much-needed brand of traditional Oi-sounds to a stage near you!
The Skinflicks were Luxembourgs' first and foremost Oi! and streetpunk band. Active from 1997 to 2002. (left to right on the picture:
Tom :guitar and backing vocals,
Laurent:drums
Jerome: Lead vocals and lead guitar
Patrick: bass and backing vocals).
Bringing you the genuine voice of Jamaica. Amaziah will be paying tribute to the ladies of Jamaican Ska and Rocksteady. Reaching number 6 in th UK Reggae charts in 2022 with her song 'Pay your Dues'