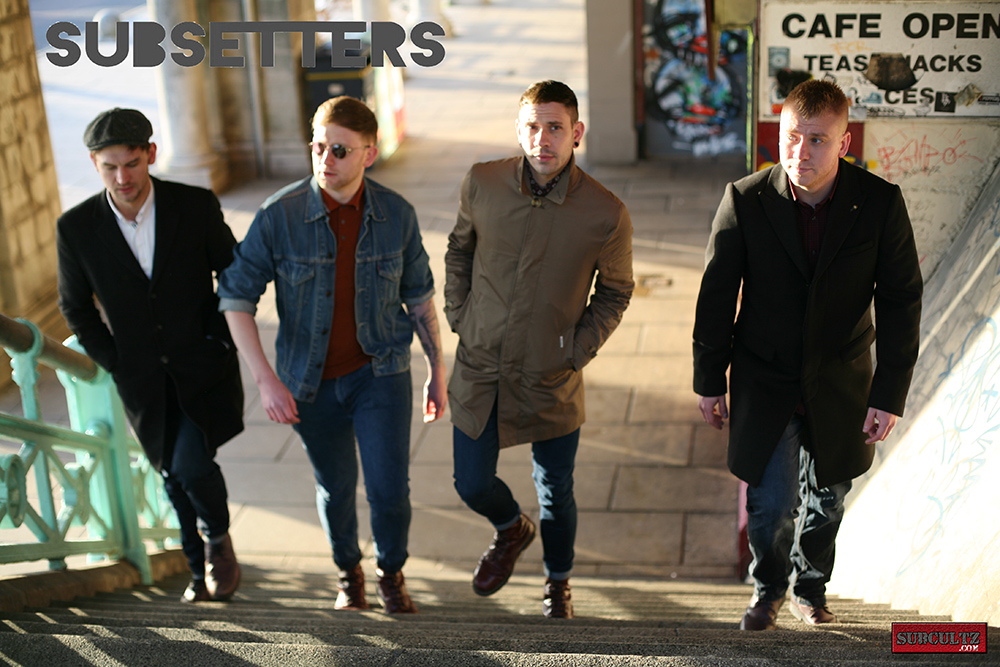 SUBSETTERS
Subsetters new Digital album release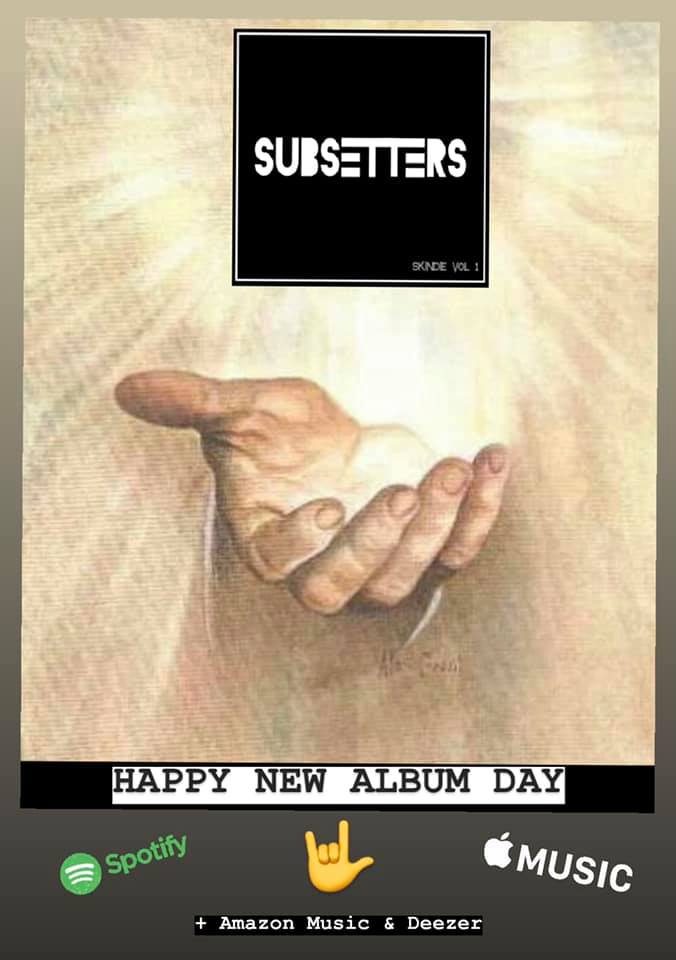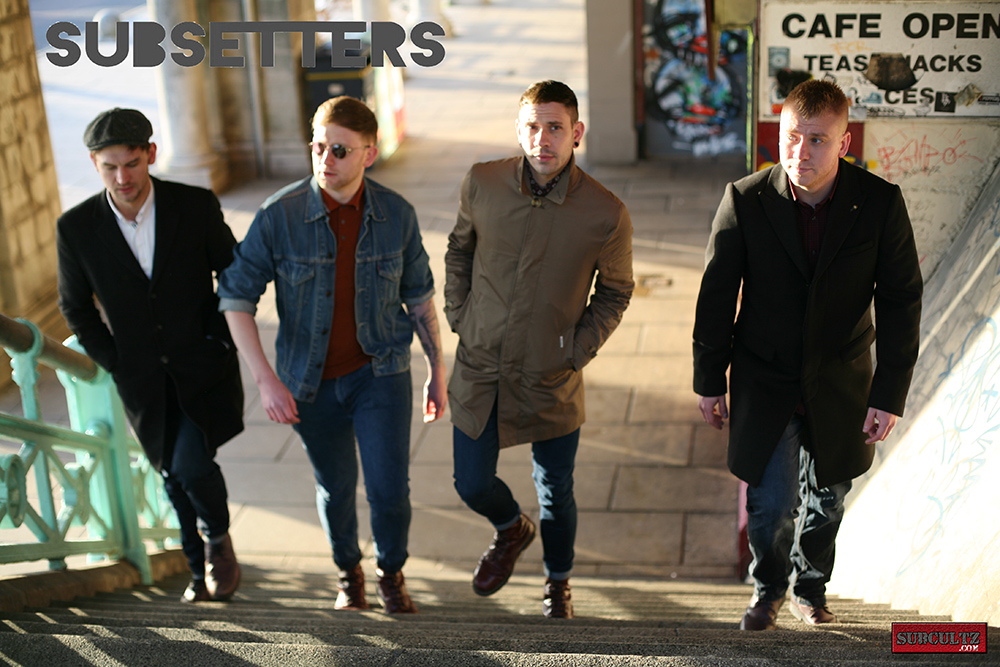 Subsetters AKA LEVI
We at Subcultz are always on the eye out for groundbreaking new bands, to take British subculture music forward. We are very proud to present SUBSETTERS. A band thats been developing their sound, busy writing playing and building a solid fanbase. We are very proud to take the band on and hopfully stepping up the ladder with them.
SUBSETTERS HISTORY
The band initially formed with members Leeroy Brooks (Lead Vocals & Guitar), Mikey Brewer (Lead Guitar & Vocals), Rob Pegg (Drums) and Jim Dines (Bass) in September 2013. Leeroy, Rob and Jim had previously played in bands together and Leeroy met Mikey through his work. The boys initially started practicing at the buildings which Rob worked at as caretaker and quickly built up a catalogue consisting of tracks such as Trigger and Ska History, giving homage to one of Jamaica's greatest export's of music genre's and Shortly after their inception, they were playing their first gig in November 2013 at The Wedgewood Rooms in Portsmouth, before this first gig, they agreed that the band would be called "LEVI".
As they continued to practice and write tracks together, they continued to gig the local areas live music circuit and picking up showcase slots at local festivals and released a limited run of an early untitled EP known as the Red Stripe EP in 2014, which contained some live recordings of the bands earliest work.
2015 saw the band secure residency slots at pub/venue's around Chichester and Bognor Regis and the band continued to write and prepare material for their first full studio EP, recorded by Paul Burton (Snow Patrol, Athlete) at Old Chapel Studios in Sussex. However, weeks before the band were due to record, Jim departed from the band, in order to save the recording project Leeroy opted to record all bass parts for the EP in Jim's absence. The EP was later released as "Blue Lights & Headlines" , including tracks such as "Thunderface" and "Too Paris With Love" which was the bands emotional felt response to the atrocities that were the Charlie Hebdo shootings in Paris. Prior the the release of the EP, Conan William Elliott joined LEVI on bass and the band proceeded to release the EP along with their first music video for "Too Paris With Love".
In 2016 the band continued to play regular gigs along the south coast and write on new material whilst releasing follow up music videos for tracks featured on the "Blue Lights & Headlines" EP.
2017 the band played festivals such as Blissfields, sharing the stage with acts such as Dub Pistols and Dizzie Rascal. Whist out in France, Conan was involved in a serious accident resulting in severe injuries to his jaw, to help with his recovery, the band took a short break in the year but bounced back later in the year in Portsmouth's Battle of The Bands competition where they came second out of 40+ bands. They also went back into the studio to record their next EP "Promises and Misery" which was released early 2018.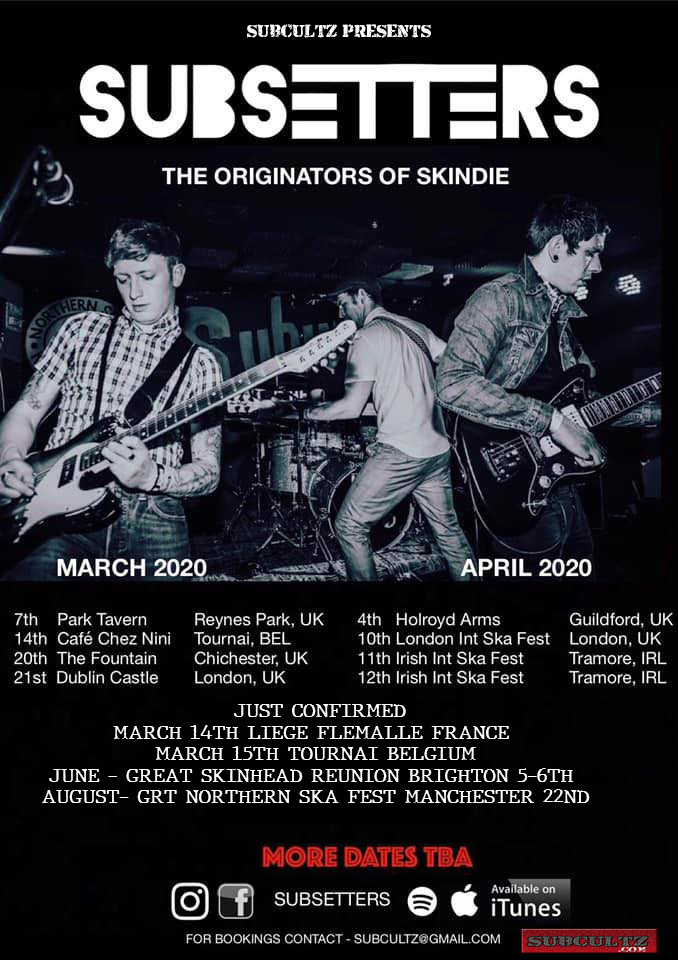 In addition to the release of "Promises and Misery" 2018 saw LEVI share the stage with Roddy Radiation of the Specials, play the "Big One 5" ska festival in Poole, No Mans Land Festival, Jerk Jam Festival and the Haslemere Fringe Festival, as well as the initially steps being taken to work with the Fringe festival to plan a monthly night of music supporting and promoting local unsigned acts.
In 2019 the band headed back into the studio again for the third time with Paul Burton to record four new tracks and continued to perform the south coast Festival circuit, from Weymouths Quaryside Festival to Brighton's Skinhead Reunion Festival.
2020 came the time for the most significant change to the band as they decided to change their name to "SUBSETTERS" in order to establish a more specific brand of their identity. The year is already building up to be the most exciting one yet for the band as they continue to work an a full album and already have shows booked throughout Europe.

THUNDERFACE
"Tell me why tell me why
You got a face like thunder
When just an hour ago
There was fun and laughter"
This song I feel can relate to everyone, written about an argument or a situation between to people where one can't see what they have done wrong and the other can't let what's been said or done go no matter how big or small it may of been,
the chorus – "oh oh well hello
is that a rise in your cheeks
Are you smiling at me
I don't think so
you gotta learn to let it go let it go let it go"
Thunderface is the moody face every man can relate to.
BUMP IN THE NIGHTS
"What goes bump in the night
Bang of a head board
Or a flicker of the lights
Eyes peering through Venetian blinds
Shadows in the street lights when the pub crawl ends in fight
Girls screaming at the top of there lungs
But When she hits the deck the laughter comes
Sirens from the next street along
Someone's put the windows in the co op for fun"
As a kid I lived a couple of doors up from a pub in selsey come around 11/12pm you would hear all the commotion of girls screaming lads fighting as they left the pub! and it would always excite me to think while everyone is sleeping all this is going on right out side my window, it would make for the topic of the song and was a great pleasure to film the video where the song was written in selsey.
MONEY
"Somebody said that you came to party
Somebody said that you came to dance
So come on and forget about your worries
Don't need no money to dance"
I wanted to write a song that
In a time where money is tight and worries are high you should always remember the best things in life are free like dancing with your friends to your favourite tunes!
More of a rock reggae track I feel it pushes the skindie sound nicely
Chorus "this is your passport for the dance floor"
TRIGGER
"Do You no trigger
He's got a trigger finger
Your staring in his show tonight
Bam bam bam with a gun in his hand
trigger doesn't understand
The difference between wrong or right
Tells the boy to park the van
Kicks the doors demands the cash
A girl screams trigger laughs haha
Grabs the cash jumps in the van
Tells the boy he's got a plan
Takes off your ballacalaver
Hit the accelerator"
Trigger the worlds dumbest criminal, I remember watching America's dumbest criminals on the box, and it gave me the idea to write a song about a guy who "thinks he's alcapone" but in reality couldn't be further from that, it has a whole cops and robbers feel to it, and we tried to get that across in the video, it has a great ska feel and a chorus that gets stuck in your head!
TO PARIS WITH LOVE
"Hello and welcome to the show
Transmission radio
who's the host god only knows
To many days we wake to the next head line
And the only crime is to think that we might get it right in time
When there's no hiding place left for you to use
I'm so sorry for your news
Tell me a story tell me all your views
Coz it only takes a minute to think of those above
To Paris with love"
To Paris in love was written about the Charlie hebdo shooting in 2015 I wanted to write something more political I remember watching the news and seeing all the footage and thinking to myself the poor family's of the victims having there loves ones shown in body bags all over the news and thinking there's no privacy everyone being pushed to talk about it so soon after for all the papers and news stations. We wanted to make sure this song had a real skindie edge to it and was hard hitting to match the words.
THIS HERE IS SKA
"OH it's the weekend again where should we go
I don't know where to begin
Let's try the club but that's if we can get in
If not the pub but they got that band in again
I don't what this music is that I hear
It's got a back beat man sounds good on my ears
A man shouts from over the bar he said
Don't you kids know this here is ska"
In This here is ska I wanted to write about a scenario where you discover ska music for the first time about being young and hitting the bars hearing a band play music your not familiar with but you can't help but be intrigued and drawn in by it, kinda what we hope to achieve when we play and the younger generation here is for the first time, this tune needed a strong ska Rhythm behind it! It still has a skindie vibe and over the years has been a bit of an anthem for us.
www.subcultz.com
07733096571