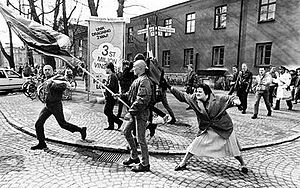 A Woman Hitting a Neo-Nazi With Her Handbag (Swedish: Kvinnan med handväskan, lit. "The woman with the handbag") is a photograph taken in Växjö, Sweden on 13 April 1985 by Hans Runesson. It depicts a 38-year-old woman hitting a marching neo-Nazi with a handbag. The photograph was taken during a demonstration of the Nordic Reich Party supporters. It was published in the next day's Dagens Nyheter and a day later in some British newspapers and sparked a discussion in Sweden about "violence unleashed against innocent demonstrators."
Runesson's photograph was selected as the Swedish Picture of the Year (Årets bild) 1985 and later as the Picture of the Century by the magazine Vi and the Photographic Historical Society of Sweden.[1]
The photograph was produced using gelatin silver process and editioned by gallerist Pelle Unger.[2] Twelve copies, three AP and three PP has been produced in the size 58 by 80 centimetres (23 in × 31 in) and price ranges between €3000–6000.[3]
Danuta Danielsson, the woman in the photo, committed suicide, jumping to her death from a water tower, two years after the photo's release, due to the unwanted media attention she received as a result of the photo's popularity.[4] She was born in 1947 and moved to Sweden after marrying a Swedish man she had met at a jazz festival. She was of Polish heritage and her mother had been imprisoned in Majdanek concentration camp during World War II.[1][5][6] A local artist, Susanna Arwin, expressed desire to raise a life-sized statue of Danielsson but it was ultimately decided against for two reasons, the first being that council members in Växjö were concerned such a statue could be interpreted as promoting violence and the second being that Danielsson's surviving family reported that they would be unhappy with Danielsson memorialized in such a manner.[5][7][8][9][10] Seppo Seluska, the man in the photo, was a militant from the Nordic Reich Party.