Mid-80s London Jazz Dance scene
Joe Davis was part of the mid-80s London Jazz Dance scene, holding down a residency at The WAG and hanging out with legends like Paul Murphy and Gilles Peterson.
Joe Davis was part of the mid-80s London Jazz Dance scene, holding down a residency at The WAG and hanging out with legends like Paul Murphy and Gilles Peterson. He is probably most famous for being THE man that travelled to Brazil in search of records and brought that vinyl back, effectively birthing a London boom in all things Brazilian. Once he had exhausted Brazil`s treasure trove of dusty basements, Joe started Far Out Recordings in 1994 to focus on and promote new music coming out of the country. With the label currently celebrating its 20th year we conducted a lengthy interview with Joe. Part 1 concentrates on those Jazz Dance days of The Wag and Electric Ballroom.
I heard it was your older brother who got you into music and collecting records. What kind of stuff were you into initially and how old were you? Can you remember your first record?
It was my brother who was collecting records in the late `60s to early `80s. An era that provided us with some of the greatest music ever. He had 1000s of 7" singles and I would have them all over the floor when I was like 3 years old. We had one of those old wooden gramophones and then those mid 70s all in one National Panasonic ones. He had records ranging from Motown artists, Marvin Gaye, James brown, Grover Washington LPs, then many imported Soul and Funk 7"s like Fatback Band, Bobby Byrd, Marva Whitney, Luther Ingram, many, too many to mention. I was curious and obsessed and was listening to all of them, all day when I was like 5 or 6 years old. When I look back to my earliest childhood, that's all I can remember.
You were digging in Notting Hill second hand record shop basements aged 13 / 14. What sort of stuff were you looking for? Were you selling stuff on at this point?
In about 1980 my brother had more or less grown out of collecting records, but he would give me money to buy them and my father and I would save everything to buy records, Probably a story of many of my generation. I would go to Notting Hill Gate by bus, which cost 2p then, and I was digging in the basements of the Record & Tape Exchanges. They had quite a few shops in Notting Hill Gate. Back in those days no one really cared about second hand Soul and Black music, so you could find amazing unknown records. I found things like "Places and Spaces" by Donald Byrd, all the Blackbird LPs, a lot of classic Soul and Jazz Funk. Many of the artists I could reference back to my brother`s collection or to radio shows that I had been listening to. I also bought records based just on their covers. The LPs were starting at 5p each and they even had a 1p box as well. That was full of shit though! It was amazing there for records I saw people like Chris Hill (legendary Essex "Soul Mafia" DJ) go in there with piles of promos he had been sent. The Ensign records office was in Notting Hill as were many record companies and I met him there when I was about 13. It was funny. I had seen loads of pictures in Blues and Soul magazine and then to see him there was amazing for me.
Were these trips inspired by the playlists of Robbie Vincent`s Invicta radio shows? Were you also splashing out on Japanese imports, which were fashionable and f-ing expensive at the time? Where else were you hearing stuff?
I used to search for radio stations for good music shows in the `70s. I found Radio Luxemburg and the godfather Robbie Vincent`s show in around `77. My brother used to listen to it, if he was up. Later Radio Invicta. Gilles Peterson, who`s still very important to me and my career, used to play Jazz stuff at the end of their three hour broadcast on Sundays between 12 and 3. It was really fantastic music being played on Robbie`s shows. He was amazing, but you couldn`t get the records as he had all the latest stuff and by Monday those records would have disappeared from the shops. Sometimes you wouldn`t find a record for several months once it`d had a UK release. Many never again or only in what was called "Cut Out" stores where you could find deleted deadstock. It was usually still sealed but with the top corner of the sleeve cut off, hence "Cut Outs". There were several of these "Cut Out" stores in Soho in the `70s. I couldn`t go to the specialist Black music stores at this point, as it was too dangerous for me as I was so young, and they were generally in really dangerous or seedy areas. Later we had good stores everywhere stocking good music but this was more into the `80s.
Regarding Japanese records, I had only a few as they were so expensive. Many got issued in the USA so I`d get the cheaper US issues. When I eventually went to Japan I started to dig for all those excellent records Robbie Vincent and others used to play like Ryo Kawasaki, Chikara Ueda, Arakawa Band etc….Also I was lucky enough to buy soul DJs Japanese record collection and he had amazing records in about 1990, Colin Curtis. I got them through my friend Kirsten.
Were you also listening to Gilles Peterson at this stage. When did you meet Gilles?
I didn`t know it until later but it was Gilles who used to supply Invicta with their transmitter. In exchange he would do a Jazz show. I recorded loads but they`re all on cassette. I think they`re in my garage. He used to play killer stuff man! I met Gilles in 1984 in Richmond, in a pub called the Belvedere Arms where he used to DJ in the mid `80s, close to where he used to live. The scene was extremely suburban in those days and the best music was played often in the home counties in the south of England. Most of London was a no go zone at night if you were from outside that area. Also it was comforting to find people around your own age group into the same music and lifestyle. I was able to go out and meet likeminded people, and my life was heading into such a great era for the London UK music and club scene. At this time there were still no real Black / Soul or dance music stations, only pirates and they were forever coming off and on air. Yet there was this massive demand for Soul / Jazz music here in London for sure. So you had pirate stations like Jazz FM, Solar, Kiss had started, many others. I would sort out the good shows and listen in.
Where did you start digging once you`d exhausted those basements?
Basically back to about 1982, I started to go to lots of shops, import shops that were emerging all over the place. There was a local shop to me in Greenford called Kings Discs which was a great record shop, so I started buying records there and you know just everywhere really. Suburban shops in Harrow, Greenford, Ealing. There was Beggar`s Banquet in Ealing. I think that might have been their first shop. The first real major record fair I went to was Croydon Record Fair which still goes on today and that`s where I actually met my friend from Brazil. That was in 1985 I was still in school. That`s how I eventually started going to Brazil because of him. I used to dig everywhere really, as soon as I had a free moment from school or college or wherever I was, I used to go out digging. I used to buy a lot of new music at that time, in the mid-80s as well, from places like City Sounds, Bluebird Records. They also had these "Cut-Out" sections. The scene was getting quite big for retrospective music then because a lot of people were dissatisfied with the current records coming out from the US, `cos we were all into American music at the end of the day, but there`d been a lot of changes in production and styles, so a lot of people started looking back and we had a number of trendy scenes in London for that, like the Rare Groove scene, the Jazz scene. The new releases were much more commercialized and the sound was big, maybe too big for my ears. Things had started changing for sure with the music scene, starting in the US.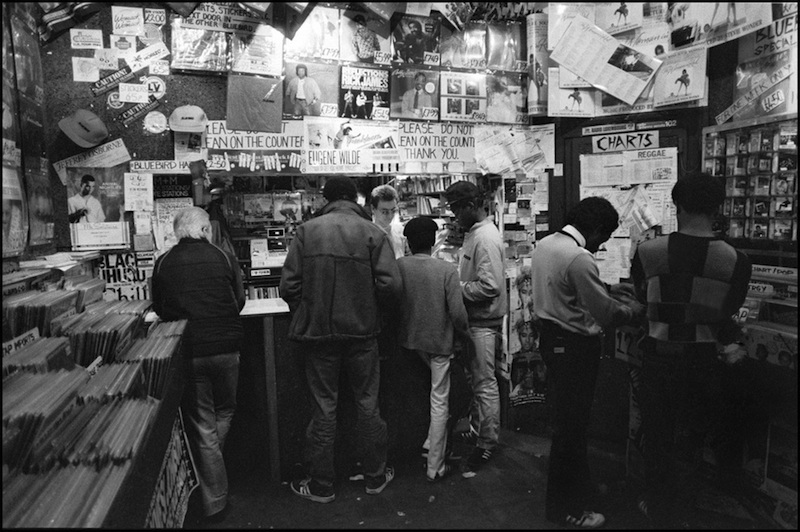 Counter at Bluebird Records, Church Street, Paddington.
How did you meet Paul Murphy?
I met Paul because basically I started to hang out with a friend, who was playing for Brentford Football Club, and he was really mad into Jazz, and he got me into the Jazz scene. Although I had some idea after listening to Robbie Vincent and Gilles on the radio, my friend was really into that emerging Jazz Dance scene. He was a few years older. He took me to Paul`s shop, `cos Paul had a few shops in the basement of the Record Shack, Fusion Records in Exmouth Market as well, and I used to go with him on Saturday mornings or afternoons, before or after he`d been playing football. Later I met Paul because I started going to The Wag Club with the same friends on Monday nights. I was still in school then and Paul was also doing a club called Sol Y Sombre in Soho, which was on the North side of Soho. The South side was a no-go zone at night. A Mexican place. Paul used to play there on Fridays. I used to go there and get the last train home when I was about fifteen.
All stories would suggest that Paul is a pretty full on character. Creating the Jazz Dance scene in London, and ditching it as soon as the media started to latch on to it. Handing his rider of a crate of vodka out to crowd in Japan.
Yeah Paul`s pretty crazy. But he`s a really nice guy, a really really cool guy. You know it`s weird but I always had a nice synergy (laughs) with him. He was always really nice to me, I think because I was so young. He always used to give me records. I don`t think he used to charge me for some of the records when I was buying in the Record Shack or Fusion. When he started playing at these clubs he knew me because I`d been going to his shops. You say he`s a pretty full on character but he`s always been really sweet with me. He would buy me tequila and orange juice at Sol Y Sombra and I would go home so pissed after two of those. He would keep bringing me drinks. He is a radical definitely. A very alternative guy and again very important for me, even though he probably does not know that.
Paul`s scene was the most fashionable, featuring cool bands, artists, musicians, he was running that bohemian scene in Soho during the early to mid-80s. So he was a bit alternative in that respect. When it got a bit too much for him, in terms of popularity or publicity, he would move on. That`s evident in the kind of musical styles and club scenes that he`s gone through. He was a very important character within that Black music scene in London.
At this time, it was really "cool" to listen to Jazz, it was a cool middle class thing and everyone wanted to be seen in that way. It was status thing if you went to those clubs. People were reading Jack Kerouac books, James Dean was an international phenomenon and his story underwent a huge revival, and fashion was based on the `50s and `60s. Everyone shopped in second-hand stores like Flip on Kings Road and you could hear the coolest Jazz blaring out of shops like Woodhouse and Browns. Paul`s scene was almost an automatic response to that.
At Electric Ballroom did you check out both the Jazz upstairs and the Electro downstairs?
I only ever went to the Electric Ballroom once. Gilles used to do it, well Paul used to do it first. Paul Anderson, who I`m DJing with at the moment, he was the main feature with George Power downstairs, while Paul used to do a Jazz room upstairs. I actually never went there because it was too dangerous. I went there once when Gilles was doing it. But it was just rough man, you know, so I never used to go. You`d get mugged up man. Ridiculous. It was rough in London in those days. So I don`t really know much about the Electric ballroom scene.
Did you know Milton McAlpine? If so do have any idea what happened to him, as he was a key dancer around the time of the Electric Ballroom and is very conspicuous by his absence from the interviews in Snowboy`s book "From Jazz Funk And Fusion To Acid Jazz"?
I remember Milton as he used to be a dancer at Cranford Disco. We used to train on Tuesday or Wednesday and go into Cranford Disco and the DJ Fergi, used to play killer Jazz, Soul and Disco for under 18s. Before my father would pick us up we would go into the hall and dance and Milton was one of the dancers there, also Jerry Barry. That would had been the first time I met him, must had been 1983. I`ve never seen him since but boy he was a great dancer.
That's Marshall, Jerry, Afro and some other dudes in the vid.
Most of the music scene, certainly what I used to go to was outside of London. London started to emerge in the late `80s really, `cos it was so run down, parts of London, after the war, and lot of people had moved out of the city. There was inner city poverty, but then there was this kind of growing middle class moving back in. I wouldn`t go to so many clubs in London because they were so rough, and at that time there weren`t that many around. I mean Soho was a bloody ghost town after 10 0`Clock most nights, or as soon as it got dark. There were less people around as well. There weren't many people actually living there. I do though remember a lot of beautiful nights at The Wag Club. Mondays nights. There was a whole Mayfair scene going on but I didn't really know about that. I was too young. Most of the events I would go to, for example, they`d take over London Zoo or something, like Nicky Holloway and the Special Branch and they`d do parties there, or there was one at Thorpe Park that we used to go to. There were very few clubs to go to, `cos most discos were full of wankers basically and they didn't play good music. So to actually go and listen to good music you had to really follow the scene and know people, go to special clubs and nights and you`d have to kind of be within that scene, to know where the next nights were going to be.
You need to realise that the `80s were a really oppressed time, similar in some ways to where this country is heading now, where you have the super rich lording it up round London and the very poor. Growing up we had very little money and very few opportunities. Mix that up with a lot racism, people hitting on each other or blaming each other for social problems. It was not a very nice time to be leaving school.
One thing I`m interested in and one thing we`ve been documenting on the site is how scenes changed, developed, evolved. I was wondering if you could give us maybe 5 tracks that were big for Paul at Electric Ballroom, 5 from his time at the Wag, and 5 from Sol Y Sombre to show how they would compare?
With Paul at the The Wag Club it was all about real Jazz and Swing so he`d be playing things like Ruth Brown, "Recado Bossa Nova" by Hank Mobley, Lou Donaldson "The Blues Walk", "Trouble" by Stanley Turrentine. Art Blakey, "So Tired". I`ll give you another favourite of his Horace Silver, "Tokyo Blues". Lots of Blue Note stuff. You don`t know what it was like to hear those tracks at fifteen years old. They blew my arse off the wall man.
Can you also give us 5 tracks that might demonstrate how what Gilles was doing at The Belvedere differed from what Paul was doing?
Gilles was doing more what Paul had done before and was playing more Soul and Fusion, Jazz Funk and then Brazilian stuff which Paul didn`t do. It was different to what Paul was doing because Paul had got really into his R&B and old Jazz, `50s and `60s music, whereas Gilles was kind of doing more of the suburban Soul Boy scene circuit at that time. Paul had started doing all of his stuff in London. I think Paul was originally from Essex, connected to people like Bob Jones and Chris Hill. But basically Gilles was still concentrating hard on radio, and doing Jazz rooms for events like Nicky Holloway`s Special Branch.
You DJed at The Wag when you were only 15. How did you get that gig? How long did you DJ at The Wag for? Can you give us a few of tracks that were big for you there?
Basically, when I was sixteen actually, I used to go to The Wag when I was about fifteen, it must have been around `85, `86. I`d just left school. I was doing an apprenticeship / YTS in sound engineering. Paul had already left The Wag Club by then, and a guy called Baz Fe Jazz took over that night, who was a very important DJ in the scene in London at that time, and another guy called Andy McConnell. I think Andy emigrated, or he wasn't really interested in doing clubs, because he had a day-job, so Baz asked me to come in and warm-up for him and I started doing the nights there, which went on for several months. It was a different scene to the suburban Jazz / Soul scene at that time. It was a very different group of people. It was much more bohemian, much more kind of city fashion people, a totally different crowd. We had a live band every week, people like Slim Gillard playing there, Tommy Chase, Robin Jones, and sometimes if there was a big Jazz artist in town, they`d come and play there. So I was DJing with Baz for several months when they opened up a room upstairs. It may have gone on for about a year, until 1987, 86-87, I can`t quite remember. I do remember that I was working on a YTS scheme in a recording studio on Gresse Street just off Tottenham Court Road and we were doing voice overs for "Spitting Image" and all the major adverts, so during the day I would meet people like David Jason, Felicity Kendall. It was in that first year that I`d left school, 1986, and I was going in really fucked up on Tuesday mornings. I used to take the nightbus home, have an hour`s sleep and then go back into town. Ironically it was Gilles who came in and took the room upstairs, and then he said I want to do the downstairs and took over the club from Baz and I. Baz had got seriously into his Christianity and did not really put up a fight for it so we got kicked out. I think Gilles had much better aspirations for the night anyway.
We used to play a lot of Blue Note stuff and I`d really got into my record collecting then so it`d be a lot of Blue Note, Prestige, Riverside Jazz, Tubby Hayes, some British Jazz, a lot of vocal stuff, a lot of Boogaloo as well, R&B. So I`d be playing things like Slim Gillard, Blues, John Lee Hooker even, and really good Latin stuff, a bit of Salsa, Art Blakey "A Night In Tunisa", "So Tired", Lee Morgan "The Sidewinder", a lot of those are classics now, and again the tracks that Paul had put us onto like "Sara`s Dance" and "Trouble" by Stanley Turrentine. Music from all of those catalogues, which we knew very little about at the time, because they weren`t readily available.
As part of the 20th anniversary celebrations, Joe & Far Out have released the "Brazilika: Brazil & Beyond" compilation. Featuring music from a "Far Out Team" that comprises both Brazilian veterans, such as Azymuth, Marcos Valle, Joyce, The Ipanemas, Mauricio Maestro, Nana Vasconcelos, and a second generation of artists, represented by names like Clara Morena and Sabrina Malheiros. There`s also a mix which collects interpretations from luminaries including Mark Pritchard, Theo Parrish, IG Culture, Ashley Beedle and Paul White. You can find out more details and order directly here / https://farout.greedbag.com/buy/brazilika-9/